The geber of Lam 3 in light of two-time perspective and two literary conventions / El geber de LAM 3 a la luz de la perspectiva de dos tiempos y dos convenciones literarias
Resumen
Abstract
Lam 3 has probably received the most attention from scholars studying the Book of Lamentations. One of the most challenging questions concerning this chapter is still the figure of the geber – the main protagonist. There is a cacophony of ideas and interpretations offered in this regard. The current paper is an attempt to simplify the effort of comprehending the figure of the geber offering a new time perspective and reading it through the lenses of two conventions: voice and anonymity. They seem to be sufficient for determining the role of the geber in the poem and possible rhetorical strategy the author employed here. The paper will also give a survey of the most crucial aspects of the scholarly debate relevant for the study.
Keywords: Lam 3, the geber, time perspective, literary conventions, voice, anonymity, Everyman.
Resumen
Lm 3 ha recibido probablemente la mayor atención de los estudiosos del Libro de las Lamentaciones. Una de las preguntas más desafiantes de este capítulo sigue siendo la figura del geber, el protagonista principal. Hay una cacofonía de ideas e interpretaciones que se ofrecen al respecto. El presente artículo es un intento de simplificar el esfuerzo de comprender la figura del geber ofreciendo una nueva perspectiva temporal y leyéndola a través de las lentes de dos convenciones: la voz y el anonimato. Parecen ser suficientes para determinar el papel del geber en el poema y la posible estrategia retórica que el autor empleó. El documento también dará una visión de los aspectos más cruciales del debate académico relevante para el estudio.
Palabras clave: Lam 3, el geber, perspectiva temporal, convenciones literarias, voz, anonimato, hombre común.
Orcid: https://orcid.org/ 0000-0001-5444-3219
Referencias
Alter, Robert. The Art of Biblical Narrative. New York: Basic Books, 1981.
Bergant, Dianne. Lamentations. Abingdon Old Testament Commentaries; Nashville: Abdngdon Press, 2003.
Berlin, Adele. Lamentations. The Old Testament Library; Louisville-London: Westminster John Knox Press, 2004.
Berlin, Adele. "On Writing a Commentary on Lamentations". En Lamentations in Ancient and Contemporary Cultural Contexts, editado por Nancy C. Lee, Carleen Mandolfo, 3–11. Atlanta: Society of Biblical Literature, 2008.
Bier, Miriam J. 'Perhaps there is Hope': Reading Lamentations as a Polyphony of Pain, Penitence, and Protest. The Library of Hebrew Bible/Old Testament Studies 603; London-New York: Bloomsbury T&T Clark, 2016.
Boase, Elizabeth. The Fulfilment of Doom? The Dialogic Interaction between the Book of Lamentations and the Pre-Exilic/Early Exilic Prophetic Literature. Library of Hebrew Bible. Old Testament Studies 437; New York: T & T Clark, 2006.
Boase, Elizabeth. "Constructing Meaning in the Face of Suffering: Theodicy in Lamentations", Vetus Testamentum 58 (2008), 449-468.
Brown, Francis, Driver Samuel R., Briggs Charles A., The
Brown-Driver-Briggs Hebrew and English Lexicon: With an Appendix containing the Biblical Aramaic (Peabody, Mass.: Hendrickson Publishers, 1996).
Bruster, Douglas y Rasmussen, Eric (ed.), Everyman and Mankind. London-Oxford-New York- New Delhi-Sydney: Bloomsbury Publishing Plc., 2009.
Bosman, Hendrik. "The Function of (Maternal) Cannibalism in the Book of Lamentations (2:20 & 4:10)", Scriptura 110.2 (2012), 152-165.
Dobbs-Allsopp, Fred W. Weep, O Daughter of Zion: A Study of the City-Lament Genre in the Hebrew Bible. Biblica et Orientalia 44; Rome: Pontifical Biblical Institute, 1993.
Dobbs-Allsopp, Fred W. Lamentations. Interpretation. A Bible Commentary for Teaching and Preaching; Louisville-Kentucky: Westminster John Knox Press, 2002.
Dobbs-Allsopp, Frederick W. On Biblical Poetry. Oxford-New York: Oxford University Press, 2015.
Fox, Michael V. "Frame-Narrative and Composition in the Book of Qohelet", Hebrew Union College Annual 48 (1977) 83-106.
Fox, Michael V. A Time to Tear Down & A Time to Build Up. A Rereading of Ecclesiastes. Grand Rapids: W.B. Eerdmans, 1999.
Gerstenberger, Erhard S. "Elusive Lamentations: What Are They About?", Interpretation 67.2 (2013), 121–132.
Hamilton, Victor P. "rb,G,,". En New International Dictionary of Old Testament Theology & Exegesis, vol. 1, editado por Willem A. VanGemeren, 816-817. Grand Rapids: Zondervan Academic, 1997.
Heim, Knut M. "The Personification of Jerusalem and the Drama of Her Bereavement in Lamentations". En Zion City of Our God, editado por Richard S. Hess y Gordon J.
Wenham, 129–169. Grand Rapids: Wm. B. Eerdmans Publishing Company, 1999.
Hillers, Delbert R. Lamentations: A New Translation with Introduction and Commentary, second, revised edition. The Anchor Yale Bible 7A; New Haven-London: Yale University Press, 1992.
Iwański, Dariusz. Silenced by Job. Nativity Series I; Menlo Park, 2006.
Iwanski, Dariusz. The Dynamics of Job's Intercession. Analecta Biblica 161; Rome: Pontificio Istituto Biblico, 2006.
Johnson, Bö. "Form and Message in Lamentations", Zeitschrift für die alttestamentliche Wissenschaft 97.1 (1985) 58–73.
Kosmala, Hans. "rb;G" gābhar; hr"WbG> gebhûrāh; rybig> gebhîr; rABGI gibbôr; rb,G< geber". En Theological Dictionary of the Old Testament. Traducido por John T. Willis, vol 2, editado por Gerhard J. Botterweck y Helmer Ringgren, 367–382. Grand Rapids, Mi: William B. Eerdmans Publishing Company, 1999.
Krüger, Thomas. Qoheleth. A Commentary. Hermeneia – A Critical and Historical Commentary on the Bible; Minneapolis: Fortress Press, 2004.
Lanahan, William F. "The Speaking Voice in the Book of Lamentations", Journal of Biblical Literature 93 (1974), 41–49.
Lester, Guilliatt A. (ed.), Three Late Medieval Morality Plays: Mankind, Everyman, Mundus et Infants. A New Mermaids Anthology; London-Oxford-New York-New Delhi-Sydney: Bloomsbury Publishing Plc., 1981.
Miller, Charles W., "Reading Voices: Personification, Dialogism, and the Reader of Lamentations 1", Biblical Interpretation 9.4 (2001), 393-408.
Miller, Patrick D. They Cried to the Lord. The Form and Theology of Biblical Prayer. Minneapolis MN: Augsburg Fortress, 1994.
Ney, Stephen. "Take good heed to the ending: the Medieval Everyman and its modern interpreters", Crux 50.4 (2014), 39-42.
Perry, Robin A. Lamentations. The Two Horizons Old Testament Commentary; Grand Rapids, MI and Cambridge: Wm B. Eerdmans Publishing Co., 2010.
Renkema, Johan. Lamentations. Traducido por Brian Doyle. Historical Commentary on the Old Testament; Peeters-Leuven, 1998.
Salters, Robin B. A Critical and Exegetical Commentary on Lamentations. The International Critical Commentary on the Holy Scriptures of the Old and New Testaments; London- New York: T&T Clark International, 2010.
Stone, Michael S. "Human Suffering in Lamentations", Revue Biblique 90.4 (1983), 534-555.
Westermann, Claus. Lamentations. Issues and Interpretation. Traducido por Charles Muenchow. Minneapolis: Fortress Press, 1994.
https://www.theguardian.com/books/2015/jun/20/elena-ferrante-author-secret-identity-strega-prize consultado el 23 de Septiembre de 2019
Enlaces refback
No hay ningún enlace refback.
Este obra está bajo una
licencia de Creative Commons Reconocimiento-NoComercial-SinObraDerivada 4.0 Internacional
.
Edita:
Instituto de Teología "San Pedro de Alcántara

| | |
| --- | --- |
|  Servicio de Publicaciones de la Universidad de Extremadura |  Universidad Francisco de Vitoria |
|   |   |
Gestión editorial:
Editorial Sindéresis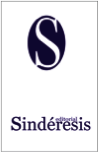 Derechos de autor:

Reconocimiento CC BY
© 2016, del Instituto Teológico "San Pedro de Alcántara" de Cáceres, la Universidad de Extremadura, la Universidad Francisco de Vitoria y Editorial Sindéresis
Dirección:
Instituto Teológico de Cáceres
Servicio de Publicaciones
Casa de la Iglesia
C/ General Ezponda, 14
E-10003 – Cáceres (España)
E-mail: publicaciones@diocesiscoriacaceres.es